---
No risks involved. Not satisfied with your results? Money back guaranteed.
Certified organic, Australian made and completely natural with proven, instant results. Hundreds of five-star reviews and scientific backing proves why NOTOX AGELESS GLOW SERUM is a revolutionary, one of a kind alternative to cosmetic injectables with long lasting benefits and zero downsides.
hundreds of five-star reviews
---


"This is an amazing product that does exactly as
it promises."
- Catherine




"I never expected this product to actually work and
assumed I would just get my money back. BUT this
serum actually works!"
- Cassie




"This is the best serum I've ever used. Try it, you
won't be disappointed."
- Lynette




---
short AND long-term results with better overall skin health
works on over 95% of people who use as recommended
suited to all skin types and safe for pregnancy & breastfeeding
clinically proven bioactive ingredients
---
Crafted from a unique alchemy of Australian and marine botanicals, NOTOX is a truly revolutionary, science backed formula.

+ SIRTALICE® an active marine extract from deep below the sea level recharges your cellular energy with an instant lifting effect

+ Australian native KANGAROO PAW FLOWER extract quickly smoothes away wrinkles and fine lines

+ SNOWFLAKE FLOWER relaxes expression lines with a filler like action

+ TASMANIAN/PATAGONIAN KELP brightens, protects, hydrates and smoothes for radiant, youthful-looking skin;

+ vegan HYALURONIC ACID plumps, hydrates and delivers actives deeper into epidermal layers

+ ROSE OTTO FLOWERS transform signs of stress and fatigue, inspiring joy and beauty from the heart.

Experience immediate results while ongoing use helps rebuild skin architecture for long-lasting improvement.



CHOOSE FROM A ONE MONTH OR THREE MONTH SUPPLY
---
---
WITHIN 3 MINUTES:

+ visibly plumper & hydrated skin, the appearance of fine lines and wrinkles are improved

WITHIN 30 MINUTES:

+ improves crows feet & under-eye wrinkles by up to 34%
+ decreases wrinkle depth by 13%
+ increases elasticity & firmness by 3%
+ gives a visible lift of several mm

AFTER 2 WEEKS:

+ visible softening and smoothing of expression wrinkles around forehead and crows feet by up to 43%

AFTER 4 WEEKS:

+ crows feet & under-eye wrinkles improved by up to 44%
+ increase elasticity & firmness by up to 13.3%
+ appearance of wrinkles in the eye & neck area decreased by up to 36%

AFTER 3 MONTHS:

+ 17% increase in skin elasticity
+ over 80% of participants self-reporting a visual improvement in their skin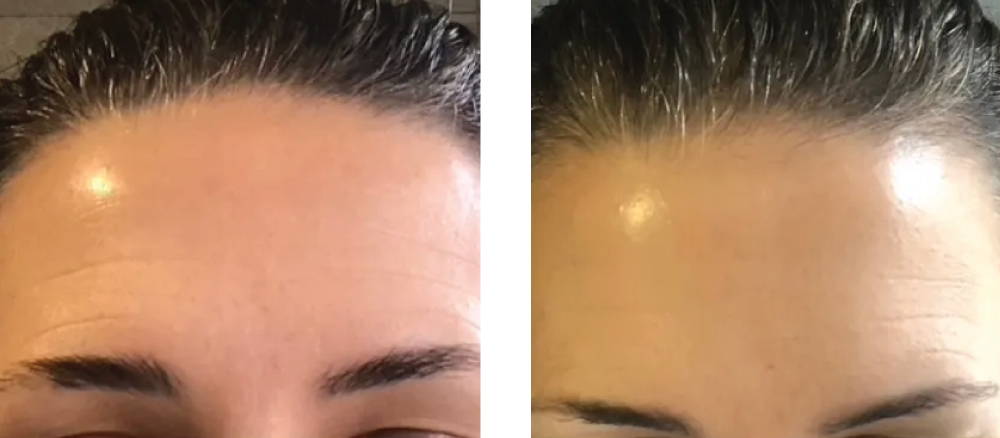 Lea - 10 minute results - 35 y.o.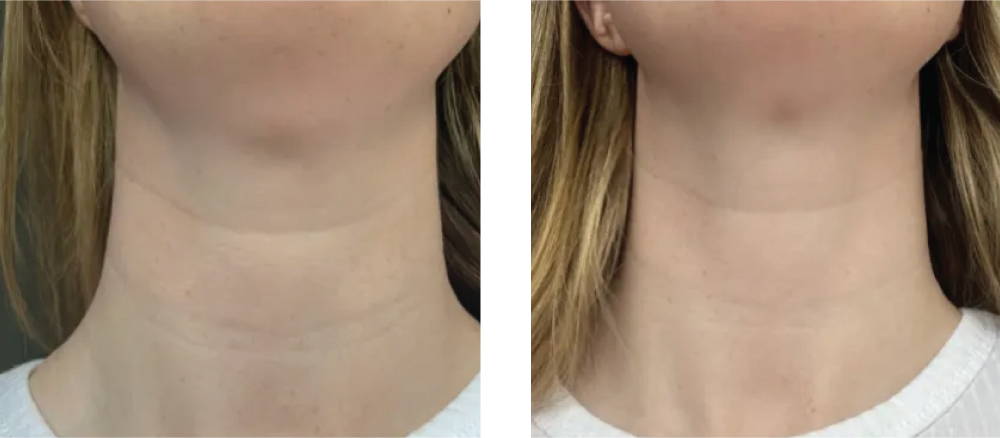 Harriet - 30 minute results - 30 y.o.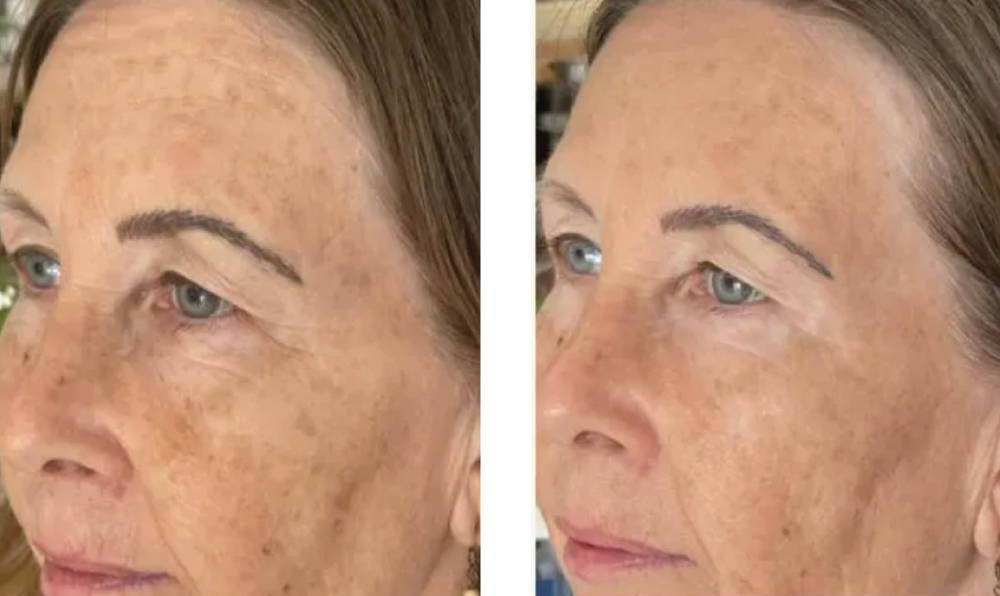 Rosemary - 1 hour - 61 y.o.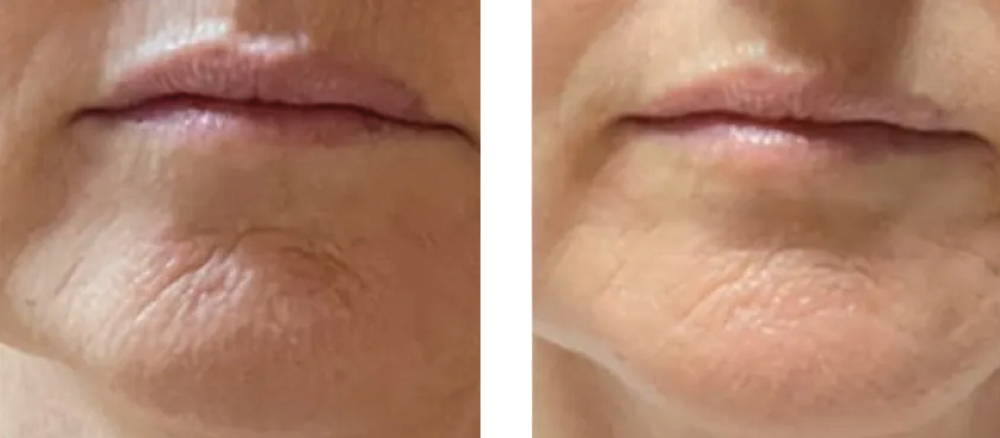 Anonymous - 1 week results - 61 y.o.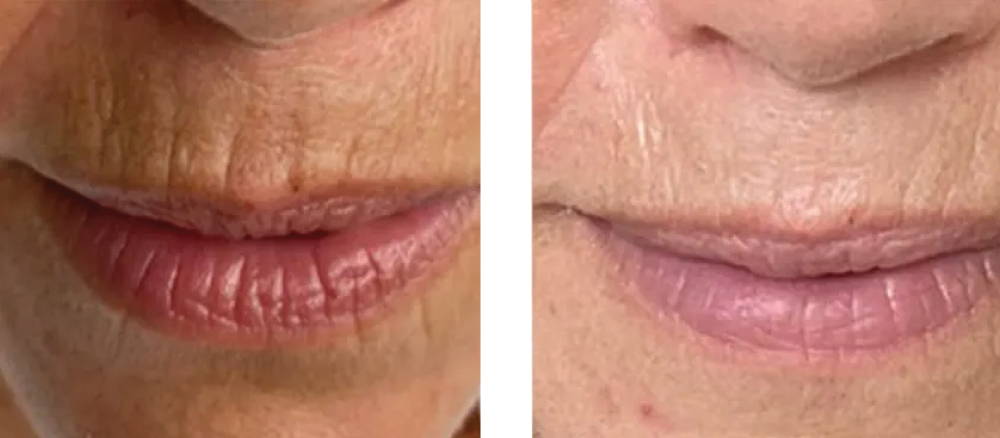 Anonymous - 1 month results - 58 y.o.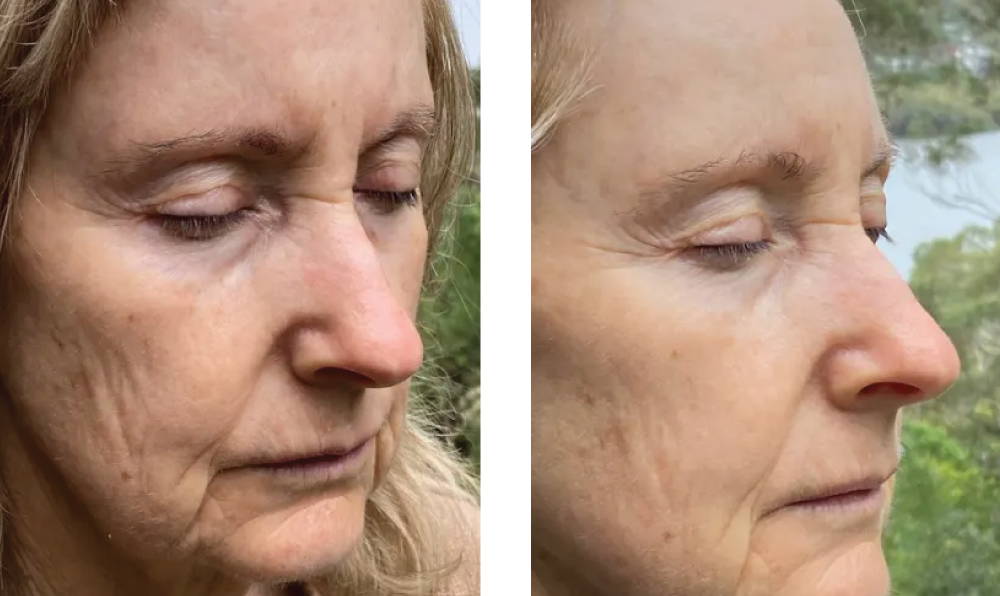 Anonymous - 1 month results - 62 y.o.
---

100% money back guarantee

---
If you aren't satisfied with your NOTOX AGELESS GLOW SERUM within 30 days of purchase, we will refund 100% of your purchase amount, guaranteed.

seal in + optimise the benefits

what if notox doesn't work for me?

---
The full results of Notox, or any topical treatment, reveal themselves after a full skin renewal cycle. The average skin renewal cycle is 28 days, yet it can take up to 84 days if we have mature skin or stress and other factors in our life. Therefore, individual results will vary depending on your age, personal circumstances and the other products you use alongside Notox. Some users can and do experience immediate results, while others see their results more gradually. Either way, It's best to wait for your skin cycle to fully renew itself before revealing the benefits of all the goodness you have just treated your skin to.










---
FREQUENTLY ASKED QUESTIONS
Where does Notox fit into my skincare ritual?
Apply one pump of Notox morning and night for optimum results. Focus on the eye area, forehead and neck when you apply it. Apply Notox after your chosen cleanser and toner, before serums and moisturiser. We recommend 'sealing' in the benefits of Notox using our Spectrum Shield Moisturiser SPF15 during the day and Replenish Elixir at night.
How long does a bottle of Notox last?

If applied twice daily (which we recommend for optimum results), the sample size lasts 3 days, the 15ml bottle lasts 30 days and the 50ml bottle lasts 3 months.
How long does it take for Notox to work?
Notox is designed to rebuild your skin's architecture with continued use, while enjoying immediate results as the deeper results build. Notox users have experienced an instant lift within 30 minutes of application and then with continued use seen more visible results after a full skin renewal cycle (and even better results after 3 cycles). Each of us are unique, with differing skin cycles and personal circumstances, including external and internal stresses that affect how quickly our skin improves. Some people's natural skin cycle is 28 days which is why we offer the 30 day treatment (15ml bottle). Whereas for others, particularly ageing skin, it can be 84 days, so a longer period of time before visual changes become really obvious, which is why we offer our 3 month treatment (50ml bottle).
What happens if I stop using Notox?
Notox doesn't cover up symptoms that will come back when you stop using it. Your skin rebuilds through using Notox so if you stop using it you just stop receiving those benefits but it will still be better off for using it for the time you did.
Will Notox help all fine lines and wrinkles?
Yes, the carefully curated natural actives in Notox work incredibly well on ALL fine lines and sagging skin. The advanced bioactives in Notox have been clinically proven to give a visible lift of several mm to wrinkles no matter how deep they are. Our customers have reported improvement in forehead lines, frown lines, crows feet, under-eye lines, marionette lines, lip lines, jowl lines, chin lines and neck lines.
Are the before & after photos edited?
The before & afters are from genuine customers who took the photos themselves with no filters or editing. We cannot control the lighting in these photos as they are taken by everyday customers that were simply delighted with their results so they sent them in. We also have photos from clinical trials showing the efficacy of all the actives in scientific conditions - so again no filters or editing involved.
What are the ingredients?
100% Natural Plant-based, 95% Certified Organic Ingredients:
*Rose Otto hydrosol, Aloe Vera leaf juice, *Vegetable Glycerine, Bacillus deep-sea ferment, *Kangaroo Paw extract, Snowflake bulb extract, Sodium Hyaluronate (Hyaluronic Acid), *Kakadu Plum fruit extract, Sodium Levulinate, Sodium Anisate, *Wakame sea kelp extract.
*Certified Organic
Is Notox suitable for sensitive skin?
Yes, Notox is suitable for sensitive skin and has no essential oils so can be used around the eye area as well. Our Cleansing Oil and Soothe Cream are also great for sensitive skin.
Yes, Notox is fragrance free and only has a subtle aroma from the rose water in it.
Is Notox sticky and will it leave a residue?
No, Notox is a clear serum that glides smoothly onto the skin and is absorbed quickly. Notox leaves skin looking and feeling hydrated and smooth. No stickiness or pilling to worry about.
Can makeup be worn after applying Notox?
Yes, Notox is a great primer for foundation, so your foundation may even look better. We recommend using the directed amount of Notox (1 pump for eyes and face) followed by a moisturiser before applying makeup. The moisturiser provides a protective layer so that the natural bioactives in Notox are not mixed with any chemicals that may be in your makeup. The chemicals won't cause harm but they may not let the natural bioactives work as well if they are mixed together.
Do I have to use other Synthesis Organics products for Notox to work?
No. As long as you 'seal' in the benefits of Notox with a certified organic and synthetic-free oil or moisturiser, you don't need to use our other products for Notox to work. If you would like to use one of our certified organic, all natural oils or moisturisers, we recommend using our Spectrum Shield Moisturiser SPF15 during the day and Replenish Elixir at night to 'seal' in the benefits of Notox.
Can I use Notox if I use filler or injectables?
Yes, there are wonderful bioactives in Notox that support elasticity, hydration and overall healthy looking skin, as well as the ones with the 'filler-like' benefits.
Can I use Notox in conjunction with a light therapy device?
You do not need a light therapy device for Notox to work effectively. If you do use one, we recommend using Notox after the light therapy device for best results.
Notox is exclusive to our online store. Soon we are opening a showroom in Byron Bay so that you can buy it in person too.
Do we offer a 30 day money back guarantee?

Yes, if for any reason you are not delighted with your purchase and wish to return it to us within 30 days of receiving it, we will refund the price you paid for it.
What packaging do you use?
We use 100% PCR (post-consumer recycled) airless bottles to optimally protect the precious actives down to the last drop, while closing the loop on single-use plastic packaging and allowing us to avoid the use of synthetic preservatives. Our bio-plant labels are made from 100% sugarcane and are recyclable. The outer packaging is made from biodegradable and recycled paper. We avoid outer packaging (unless you ask for it) and plant a tree on your behalf instead. As part of our Carbon Neutral Commitment, we offset the carbon emissions of all shipping to keep our planet breathing well.
What currency are the prices in?
For orders under $99, there is a flat rate postal charge of $12.50 for Standard or $18.50 for Express delivery in Australia and $25 for international delivery.
How long will it take to receive my order?
Delivery Time: Orders are usually shipped within 1-3 days of being received*. Once shipped, within Australia, standard orders take 1-5 working days to deliver (Please allow 1-2 extra days for rural delivery and delivery to WA.) For all other countries, you can expect delivery of your products within 14 working days or sooner for the express service.
If you have not received your order within 21 days please email us at info@synthesisorganics.com
*If there is a delay in the supply of any of the products you have ordered, we will advise you as soon as practical. If the goods cannot be delivered within 30 days of your order, we will notify you of this delay so you may either cancel your order or agree a further delivery time with us.

---