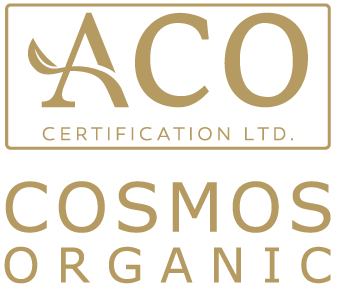 All skin types.
Targets: Bluelight radiation, dehydrated skin, open-pores, dull skin, pollution, stress, negative energy / energetic toxicity.

SUPEROX-C®: certified organic and sustainably sourced from Australian Kakadu Plum which thrives in extremely harmful UV environment. Scientifically proven to reduce blue light-induced protein carbonylation attesting to a protection from oxidative stress and maintain skin integrity attesting to a high skin quality.

BORēALINE® PROTECT: black spruce bark extract, obtained through a circular economy process and a source of resveratrol and various polyphenols for skin protection. Defends the skin against environmental stresses by delivering photo-aging and UV side effect protection, increased skin hydration, and protection from pollution and oxidation.

MARITECH® REVERSE: sustainably sourced extract of Tasmanian and Patagonian wakame kelp scientifically proven to soothe, protect and hydrate the skin using the same compounds the seaweed has developed over millions of years to withstand extreme UV and other environmental stresses.

HYDROSELLA®: sourced from native Rosella and clinically shown to increases tight junction proteins expression (occludin) to restore and to improve skin barrier function; provides a preventive action for skin lipid protection and increases its production; increases organic osmolytes transporter following dehydration to increase natural defense system water loss; increases skin lipid production following dehydration to prevent further water loss. Hydrated skin will remain flexible and allow our protective barrier to remain intact.

Vegan Hyaluronic Acid: increases the skin barrier function to improve hydration and seal the skin from pollutants.

Proprietary Synthesis Organics blend of evidence-based anxiolytic oils: Studies have shown the oils (Lavender, Bergamot, Rose, Sandalwood, Fragonia and Rose Geranium) used in our blend are effective at reducing anxiety and increasing feelings of relaxation and balance among participants.


Use morning and evening after cleansing as a toner.

Use as needed throughout the day, especially if working in front of a computer to protect, calm and energise skin and senses.

Shake well. With eyes closed, mist directly onto the face.

Alternatively, spray into the palms of your hands and gently press onto the face. Lightly tap with your fingers across the skin to enhance absorption or you may prefer to spray onto a cotton pad and smooth over the skin.

Can be sprayed over make-up to re-freshen and hydrate while travelling and/or in air conditioning.

Store below 30℃ and away from direct sunlight. To ensure skin compatibility, patch test first. If irritation occurs, discontinue use and seek medical advice.

100% Natural, Vegan, Cruelty-free 95% *Certified Organic Ingredients:
*Aloe barbadensis (Aloe Vera) leaf juice, *Cocos nucifera (Coconut) water,*Rosa damascena P. miller (Rose Otto) hydrosol,*Vegetable Glycerine, Erythritol, *Hibiscus sabdariffa (Rosella) fruit extract, Inula helenium (Elecampane) flower extract, *Terminalia ferdinandiana (Kakadu Plum) fruit extract, Caprylyl /Capryl Glucoside, *Undaria pinnatifida (Wakame) seaweed extract, Sodium hyaluronate (Hyaluronic Acid), Sodium Levulinate,Sodium Anisate, Levulinic Acid, Picea Mariana (Spruce) bark extract, *Citrus aurantium bergamia (Bergamot) peel oil (bergaptene- free),*Lavandula angustifolia (Lavender True) flower oil, *Santalum spicatum (Sandalwood Australian) heartwood oil,*Pelargonium roseum (Rose Geranium) flower oil*, Agonis fragrans (Fragonia) leaf/branch oil.
We are committed to the environment and opt to use minimal and recycled packaging.

We use PCR (post-consumer recycled) solid white glass to optimally protect the actives and precious oils while closing the loop on single-use packaging.

Our bio-plant labels are made from 100% sugarcane and are recyclable.

The outer packaging is made from biodegradable and recycled paper. As part of our commitment to use minimum packaging, we only include the outer packaging if you choose to receive it by ticking the box at checkout.

REFILLS

Refills are also available on this product, so once you purchase your first bottle, you can send it back to us and we will clean it and refill it for you over and over and over.

Just select the refill option on our website, then send us your empty bottle. We will clean and refill it, replace the label if necessary, and send it back to you. The refill option discount should more than cover the cost of your shipping back to us, especially if you refill several bottles at a time or take advantage of our FREE SHIPPING offer for purchases over $99.

Reviewing

Synthesis Discovery Sample & Travel Collection

What is your skin type?

Dry

What are your skin concerns?

Sensitivity,

Ageing

My Results

Smoother Skin,

Skin Radiance

Beautiful products

Noticed such a difference with this skin routine.

Reviewing

Synthesis Discovery Sample & Travel Collection

What is your skin type?

Normal

What are your skin concerns?

Ageing,

Wrinkles,

Sun Damage

Product Standouts

Smells Great,

Easy To Use

Great samples!

I'm loving trialing these samples and they are the perfect size for travel which I plan to refill with the full sized bottles in the future.

Reviewing

Spectrum Face Mist

What is your skin type?

Dry

What are your skin concerns?

Ageing,

Dryness,

Wrinkles,

Sun Damage

My Results

Smaller Pores,

Skin Radiance

Product Standouts

Smells Great,

Easy To Use,

Hydrating,

Healing,

Great Ingredients

it completes me!

intense hydration with definite healing properties, my routine doesn't feel complete with the Spectrum Face Mist

Reviewing

Synthesis Discovery Sample & Travel Collection

What is your skin type?

Combination

What are your skin concerns?

Ageing,

Redness,

Wrinkles,

Stress,

Acne

My Results

Fewer Blemishes,

Softer Skin,

Smoother Skin,

Skin Radiance,

Glowing Skin

Product Standouts

Hydrating,

Gentle,

Smells Great,

Healing,

Fast Acting

Love!

Love these products! It was my first time using any of them so it was great to get a small sample of each and then experiment to find out which ones I wanted to continue using. In particular I love the Notox, replenish elixir, soothe cleansing oil and enzyme cleanser. They all make my face feel amazing. I love not using heavy moisturising creams anymore. My only suggestion is that the sample collection comes with a little leaflet on each of the products and how to / when to use them. The info is all online but I personally would have liked something to refer back to.

Reviewing

Synthesis Discovery Sample & Travel Collection

What is your skin type?

Normal

What are your skin concerns?

Ageing,

Wrinkles

My Results

Glowing Skin,

Skin Radiance

Product Standouts

Great Ingredients,

Smells Great,

Fast Acting,

Easy To Use,

Gentle
Reviews Loaded
Reviews Added