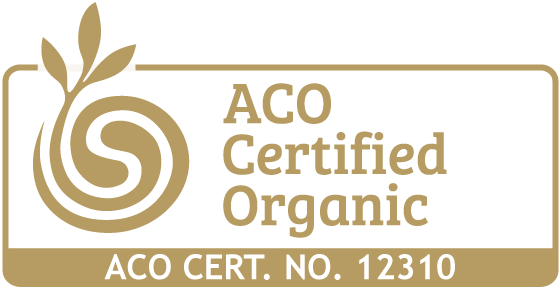 Synthesis Organics offers the highest therapeutic quality certified organic essential oils in the world.

• The following Quality Control (QC) tests are performed on every batch of essential oils we use:GC/MS (Gas Chromatograph/Mass Spectrometer), Appearance, Colour, Odour, Specific Gravity, Refractive Index, and/or Optical Rotation.

• Technical data is also assessed on Product Specifications, Certificate of Analysis, Material Safety Data Sheets, Organic Certifications, and Product Declarations.

• Each oil has a batch-specific Certificate of Analysis that allows full traceability and guarantees the authenticity of the product.

• Our sources are third party audited to the Australian National Standard for Biodynamic and Organic Produce by the ACO.

• All of our products come with a 100% Satisfaction Guarantee.
The stone labels on our essential oil bottles are made from 100% post-consumer recycled marble waste, and the bottles are made with biophotonic violet glass for optimum preservation and energetic benefits. These bottles are infinitely recyclable so we are able to offer a refill service.

Just select the refill option on our website, then send us your empty bottle. We will clean and refill it, replace the label if necessary, and send it back to you. The refill option discount should more than cover the cost of your shipping back to us, especially if you refill several bottles at a time or take advantage of our FREE SHIPPING offer for purchases over $99.

As part of our Carbon Neutral Commitment, we also offset the carbon emissions of shipping back and forth to keep our planet breathing well.
Reviewing

Synthesis Discovery Sample & Travel Collection

What is your skin type?

Dry

What are your skin concerns?

Sensitivity,

Ageing

My Results

Smoother Skin,

Skin Radiance

Beautiful products

Noticed such a difference with this skin routine.

Reviewing

Synthesis Discovery Sample & Travel Collection

What is your skin type?

Normal

What are your skin concerns?

Ageing,

Wrinkles,

Sun Damage

Product Standouts

Smells Great,

Easy To Use

Great samples!

I'm loving trialing these samples and they are the perfect size for travel which I plan to refill with the full sized bottles in the future.

Reviewing

Spectrum Face Mist

What is your skin type?

Dry

What are your skin concerns?

Ageing,

Dryness,

Wrinkles,

Sun Damage

My Results

Smaller Pores,

Skin Radiance

Product Standouts

Smells Great,

Easy To Use,

Hydrating,

Healing,

Great Ingredients

it completes me!

intense hydration with definite healing properties, my routine doesn't feel complete with the Spectrum Face Mist

Reviewing

Synthesis Discovery Sample & Travel Collection

What is your skin type?

Combination

What are your skin concerns?

Ageing,

Redness,

Wrinkles,

Stress,

Acne

My Results

Fewer Blemishes,

Softer Skin,

Smoother Skin,

Skin Radiance,

Glowing Skin

Product Standouts

Hydrating,

Gentle,

Smells Great,

Healing,

Fast Acting

Love!

Love these products! It was my first time using any of them so it was great to get a small sample of each and then experiment to find out which ones I wanted to continue using. In particular I love the Notox, replenish elixir, soothe cleansing oil and enzyme cleanser. They all make my face feel amazing. I love not using heavy moisturising creams anymore. My only suggestion is that the sample collection comes with a little leaflet on each of the products and how to / when to use them. The info is all online but I personally would have liked something to refer back to.

Reviewing

Synthesis Discovery Sample & Travel Collection

What is your skin type?

Normal

What are your skin concerns?

Ageing,

Wrinkles

My Results

Glowing Skin,

Skin Radiance

Product Standouts

Great Ingredients,

Smells Great,

Fast Acting,

Easy To Use,

Gentle
Reviews Loaded
Reviews Added